Children's Services :

---
Childrens E-Audio and E-Books
Did you know that South Huntington has it's own collection of e-audio and e-books books just for our patrons? Click here to see what's available.
World Almanac for Kids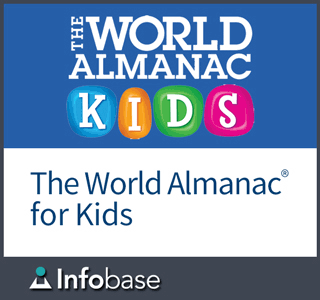 Please click on the image above to gain access to our NEW
World Almanac for Kids subscription.
Hoopla for Kids
Check out our newest resource: Hoopla, a digital media service that lets you instantly borrow free movies, music, audiobooks and more, 24/7 with your library card. Patrons can access content on their phones, tablets or home computer. For more information, please ask a librarian. Click HERE to get started.
TumbleBooks Daily
Museum Passes
South Huntington Public Library has museum passes for:
American Airpower Museum
Brooklyn Botanic Garden
The Children's Museum of Manhattan
Children's Museum of the Arts
The Cold Spring Harbor Fish Hatchery & Aquarium
The Cold Spring Harbor Whaling Museum
The Cradle of Aviation Museum
The Empire Pass
The Frick Collection
Garvies Point Museum & Preserve
The Guggenheim Museum
Holocaust Memorial & Tolerance Center of Nassau County
Intrepid Sea-Air-Space Museum
Long Island Museum of American Art, History & Carriages
The Long Island Children's Museum
Long Island Maritime Museum
The Museum of Modern Art
Museum of the City of New York
Nassau County Firefighters Museum and Education Center
Nassau County Museum of Art
New York Hall of Science
New York Historical Society
Old Bethpage Village Restoration
Old Westbury Gardens
The Vanderbilt Museum and Planetarium
Walt Whitman Birthplace

Reservations can be made in advance, by phone or in person, for the current and subsequent month. Passes are for South Huntington patrons only. Call the Children's Department for details or click here to reserve a pass online.
Brainfuse: Homework Help
For students who need help with an assignment, Brainfuse is a great new resource that offers:

Live Homework Help daily from 2-11 p.m. 24-Hour Writing Lab: Submit a paper and get feedback. Practice tests, including Regents and the SAT. Click here to get started and choose Live Study Help. You will need a South Huntington Library card
The Children's Department is Now on Pinterest!
Looking for a new book to read? Check out SHPL Children's Department Pinterest page. There are boards on all the new books we're reading plus library resources and some other fun stuff. Click here to take a look.
The Children's Dept. is now on Facebook!
Become a fan of the Children's Dept. Facebook page and find out about upcoming events. Click here for link.
Search for the Stars!
The Children's Department wants to let you know about our favorite books. We each have a star bookmark that's placed in one of the books we love best. Take a look on the display shelves and see what we've put out today.
Museum of Natural History
Due to changes made by the Museum of Natural History, we will, unfortunately, be canceling our pass subscription when it expires at the end of February 2012. The Museum has changed to a voucher system, whereby each patron is required to have one to gain admittance. This system is cost prohibitive for our library, as well as others in the Suffolk County Library System, and incompatible with our online reservation system. It is our hope that the Museum of Natural History will recognize how difficult it has become for libraries to participate and will change back to the original pass system. We regret any inconvenience this change may cause.
TumbleBooks
TumbleBooks is an online collection of animated, talking picture books that teach kids the joy of reading in a format they'll love. TumbleBooks are created by adding animation, sound, music and narration to existing picture books in order to produce an electronic picture book that children can read on their own or have read to them.